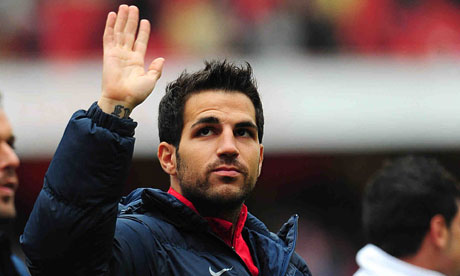 Word on the street is Cesc Fabergas is leaving Arsenal. We're all sad. Many in fact, are in denial of the whole situation. He's been with Arsenal 7 years, and what a great 7 years they've been.
Think about how delighted people are when players return to their roots- sometimes not even permanently, but even for just an away fixture. When Man City played Arsenal at Emirates a few weeks back, Toure and Viera were given an amazing reception by Arsenal fans. Adebayor, not so much.
When players come back to Arsenal permanently, like Sol Campbell for example, everyone is happy. The stars are aligned and a player is seen as returning to their roots. Ever since Thierry Henry mentioned in an interview he wants to end his career at Arsenal, fans still talk about this like its going to happen tomorrow.
Fabergas is now returning to his roots. He left Barca years ago and now he will return to his club a world class player. I heard someone on the bus say 'Arsenal is in Fabergas's heart, but Barca is in his blood'. It's true.
So, if this is so long Fabergas, fine. I promise to be one of the many people standing and cheering when you return for away fixtures at Emirates.